Student Success Stories at Buttercream Petals
Real Life

Stories of Achievements and Growth

of Buttercream Petals Students from around the world
Hagar, Ghana
Thank you Neetha for inspiring me and helping me learn cake decorating! I am 61 years old with a dream to start my little bakery in Ghana after retirement. I have learned so much in the Online School both baking and buttercream cake decorating. Thank you so much!
Marie Perry, Three Little Birds Events, UK
Buttercream Petals Recipes and Techniques are amazing! Perfect results every single time! Since taking Buttercream Petals course, I've made triple the course fee so far in a matter of months mainly from cupcake blooms! For a product I couldn't even offer before to my customers, it has been such a good investment! And it's a skill you learn for life, the benefit is ongoing!
Amreen Ashraf, Kenya
The online school has been amazing to improve my skills in buttercream. I always struggled with buttercream, but through the online school, I learnt how to make stable buttercream, learn many new techniques and the best part is that the course is affordable and the support Neetha provides is amazing. Definitely the best course in Buttercream.

The chocolate masterclass has opened up a whole new look for Buttercream Cakes, it's something that I would see in books or magazines and thought it would be impossible to create. But through this course, it has become a reality, and once again, Neetha's instructions are so clear and precise. Definitely amazing.
I would recommend the course coz its affordable, full of information about cakes, buttercream, chocolate cream and piping. Neetha provides full support throughout the course and also later if there are any questions.
Zabbean Gire, USA
Since joining the Online School I have improved my flower piping techniques a lot. It has given me so much confidence!! I'm so glad that I enrolled!
The Chocolate Painting Masterclass which uses Palette knife is something that I've always wanted to learn. It looked harder in the beginning but once I practised,  there was no turning back for me!
I would highly recommend Buttercream Petals courses and Neetha is an amazing Teacher!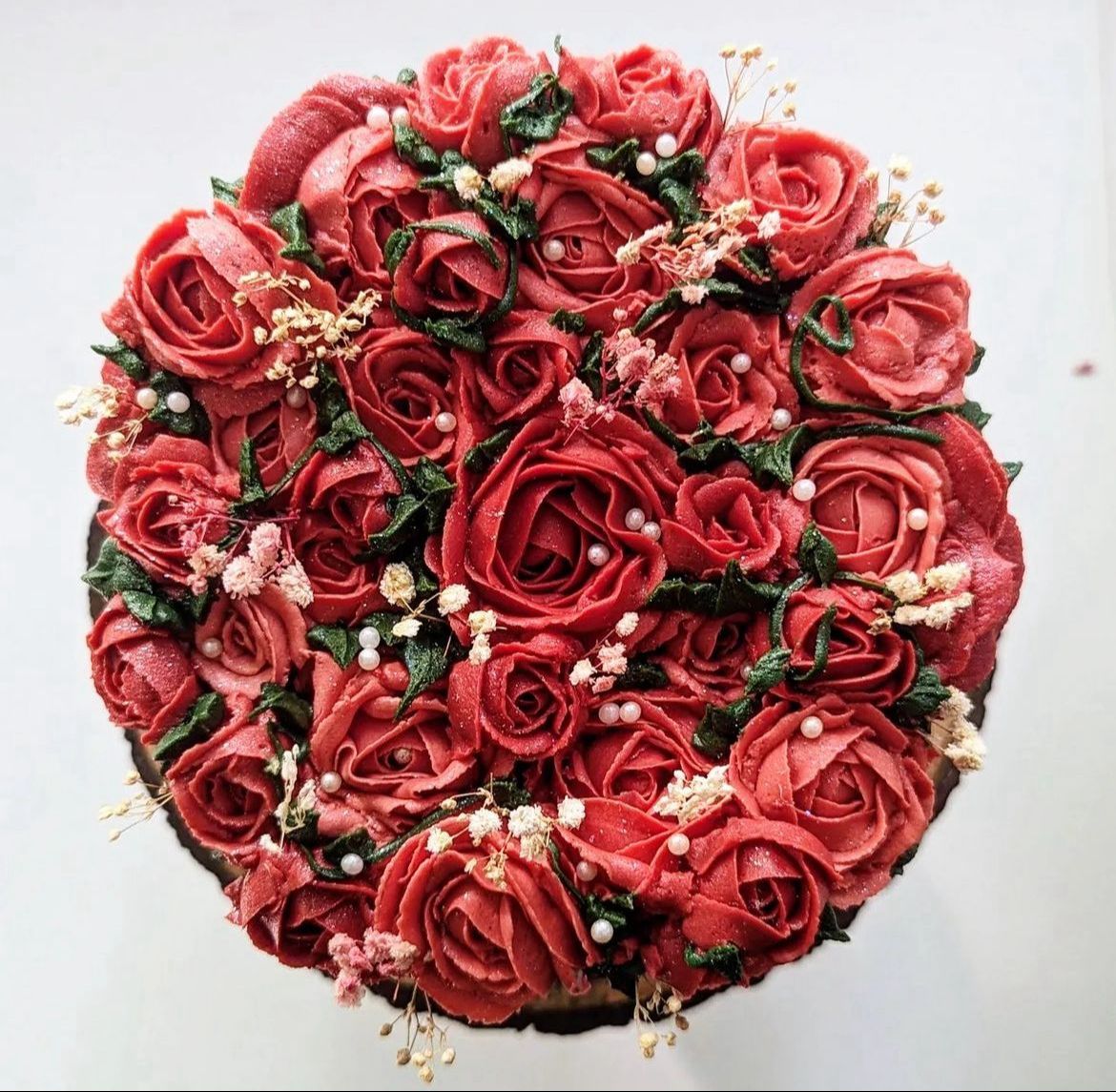 Bakd.bysarah, UK
I had a fantastic experience in the Buttercream Petals course! I particularly loved that Neetha as a teacher is brilliant and inspiring, she made everything I thought was complicated very simple. I also loved Neetha's guidance and the positive impact she has had on my Cake Decorating kills. The course provided me with a supportive learning environment contributing to my overall enjoyment and Success in Mastering Buttercream Flower techniques. The course boosted my confidence in making buttercream flowers and taught me amazing new techniques.
Apolline, Australia
I have made both the Signature & Classic Buttercreams and everyone loves how smooth and tasty the buttercream are!  I've used  the signature buttercream in hot weather and had no issues with it melting. I bake for family and friends and they always rave about my sponge cake (which is Neetha's sponge recipe). They say it's the best they've ever tasted and I believe when you're onto a good thing, you should never change it! 
I enjoy Neetha's calmness while teaching. There's no annoying music and the camera angle is very good as it's directed solely on the work. I've seen other videos where the teacher's hand is blocking the view so we learn nothing! 
Tina Nakonechny, Canada
The Online School has challenged me to be more creative and broadened my skill level. I also appreciate the words of wisdom and constant encouragement from Neetha to build my confidence and motivation.
I would highly recommend the Online School as it is very informative, well laid out and easy to follow. There is always opportunity to ask questions. Neetha is always reachable, and offers updates and extra courses for continued growth and progress.
Veena, India
Since I am self taught, I wasn't sure about the basics like baking perfectly, making buttercream and even creating vibrant colours for cake decoration. So happy I joined the Online School where I have learned baking with flavour variations, delicious buttercream, smoothing cake and piping various colourful flowers. The continuous support from Neetha really helps. She really takes the time to make sure you understand and apply the techniques correctly. My goal is to start a full fledged cake business, but I have already made my first big order for 50 floral cupcakes!
Delnaz Dalal, UK
I enrolled to the class as I was an amateur baker. But the online classes transformed my work completely. My work looks more professional. I am more confident working with buttercream even in harsh whether conditions. People are willing to order more and pay what, I ask for. It also helped me with photography. A proof of this can be seen on my insta page kt_kitchen22, where initial baking and photography were quite amateur but the recent one looks a bit professional. Thank you! Neetha for playing such an important role in journey of young bakers like me. Also grateful for after class support. You are a true role model. God bless🤗
Sophia Butler, (
Regional Winner Buttercream Cakes Category - Cake Professional Awards)

, UK

Learning how to make the signature buttercream was really useful, a proper recipe makes a world of difference! Now, Buttercream flower cakes are my best selling product! The money I spent on the course was made back by selling just a couple of cakes!!!  People are willing to spend more on cakes which look so good. Well worth the course fee! I cannot recommend this course enough!
Gretchen, USA
I always struggled with the right taste and texture of buttercream. I tried all different types, but never found "the one" until I tried the Signature Buttercream. The taste and texture is Perfect! Also, the 'Science of Baking' made an immediate difference in the taste of the cakes. I'm loving the colour theory and how to set up the piping bags to produce realistic petals. I have already started getting others asking for cakes, so it could lead somewhere! :)
Neetha shares so much in the Online School that my creativity can surge to a new level! Again, I thank you for sharing such detailed information about every aspect of cake decorating. It's like you are sitting in my kitchen holding my hand and inspiring me as I go!
Rachel, UK
I used to struggle working with Buttercream. When I joined Buttercream Petals Online School, I was a complete beginner. But after this course, I learned to bake delicious cakes, palette knife paint and pipe amazing buttercream flowers. I started receiving requests from friends if I would sell these beautiful cakes. After couple of months of enrolling, I have started my home baking business in Newport, UK. Neetha is very supportive, replying to all my queries. I would highly recommend this course!!
Cylence, USA
My biggest struggle prior to joining Online School was that my buttercream would be too soft, so it melted in my hands as I piped which resulted in my flowers not forming properly. Signature buttercream has great texture, the flowers stood up to the heat. Online School helped me to get my foundation right, which lets me tweak the skills to my own style. I would recommend this course to anyone who is seeking to learn or enhance their baking and piping skills.
Glenda, USA
I struggled with working and being creative using buttercream as a medium for my cakes. The online School has helped me take my Home baking business to the next level. Now, I create awesome one of a kind cakes in Buttercream and I am confident, excited and looking forward to accepting buttercream cake orders.
Riya, India
I have a Home Baking business for the past 8 years. I am always keen to learn new techniques and improve my skills. I wanted to learn the eggless signature buttercream recipe and floral cake art techniques. The online school has amazing videos explaining the Buttercream making, baking and decorating techniques in depth. I learned a lot of techniques! I sell many floral cakes now, both piped and painted, I am totally satisfied with this course.
Seema Arora, India
I always wanted to try Palette knife painting but I feared I wouldn't be able to learn it. But the Online School has Buttercream recipes, baking, flower piping and palette knife painting, all explained in concise videos targeting the concept. Together with the motivating attitude of Neetha, it is an amazing learning experience. From being a full time Mathematics teacher, I have now made the career change to a professional baker 🙂
Nina Babbage, UK
I used to struggle with my buttercream especially when it comes to covering the cakes smoothly. I have learnt that it is all about the technique in which you apply the pressure and angle the smoother, along with stable and glossy buttercream. The signature buttercream tastes amazing, unlike any other buttercream I have tasted and is beautifully pipe-able. Neetha is a great teacher, patient with an amazing style of teaching.
Rashila Pithadia, UK
Before the course, I lacked confidence in cake decorating, my buttercream gave me problems and I was unsure how to cover the cake, how to use all the nozzles!  But after this course, learning basics like making the perfect signature buttercream, baking tips, smoothing cake and piping various flowers, this has really transformed my skills. I would highly recommend anyone interested to perfect their buttercream skills join this course. Neetha is a brilliant tutor.
Aneeldeep Kaur,Coventry, UK
Neetha gave me so confidence from start to finish of this class. My biggest takeaway from this course is the skill to make smooth and glossy buttercream, mixing amazing colours, covering cake perfectly and making buttercream flowers. Signature buttercream is fantastic. I am excited to learn more as I am now in the Online School. My ultimate goal is to start my own cake business.
Taruna Dineshkumar, India
I didn't have a good eggless buttercream recipe and mine always melted as I mixed colours, especially in Indian weather. Since joining Online School, I learned the tricks to make stable buttercream and learned to pipe more than 30 different flowers, all within a month of enrolling in Online School! What makes this course amazing is the ongoing support from Neetha and the well-structured learning videos. Highly recommend this course!
Arlene Gomez, Qatar
Once I enrolled, the first thing I tried was the signature buttercream recipe, Walla! I can't believe it, it's like magic! I can pipe beautiful flowers right away without difficulty. It was very stable and sooo tasty! I really appreciate Ms.Neetha's effort, she is very helpful in guiding me with the ingredients. She even supported me personally to find the exact shops here in Qatar where I can buy the correct ingredients. Neetha shares generously her skills and talents to her students in order to achieve our goal. I highly recommend enrolling Buttercream Petals Masterclass, you will not regret it. Thank you once again Ms. Neetha and God bless you more.
Shifa Fathima, UAE
I am so happy that I joined Neetha's Online School. Everything in this course is explained in detail and very easy to follow. The lifetime access is great which means I can learn in a pace that suits me. Neetha is always there to support me, replying to all my queries. She has helped me a lot with all the tips and tricks to perfect my buttercream and skills. I totally recommend this course to anyone who wants to master buttercream art.
Indulekha Menon, India
From a hobby baker to someone who could realise her dream and start her own Cake Business, it is all coz of Neetha. Buttercream Petals Online School is all you need to be a pro. Each and every session in the Online School is planned in such a way that it considered all the queries one can have. Neetha is such a patient and conscientious person who really takes the time to make sure you understand what you are doing and you get the techniques right.
Pooja, UK
Coming from a background with no cake baking/decorating experience, I have learned an amazing amount of information on how to make beautiful cakes. It is all coz of Buttercream Petals Online School. I love the signature buttercream recipe, not just glossy but tastes heavenly too... Thank you Neetha for always replying so quickly to my queries, you are a star! This course has improved my confidence in cake decorating as I begin my new career in baking field.
Sija, Paapillon, UAE
I joined Buttercream Petals Online School as a complete beginner. I learned to bake delicious cakes easily, choose the right colour combinations, palette knife paint and pipe amazing buttercream flowers like a professional! I loveee signature buttercream! Now I started receiving requests from friends if I would sell these gorgeous cakes!  Within just one month of enrolling, I have started my home baking business and I am selling with confidence! Unbelievable! Highly recommend this course to anyone looking to learn baking and buttercream skills real fast.
Musliha Yoosuf, Maldives
Since I am self-taught, I was never able to perfect my buttercream recipe, especially for piping and smoothing the cake. Neetha's signature buttercream recipe is like magic! It's perfect for piping flowers and it's delicious! I would totally recommend Neetha's courses if you want to perfect yourself in buttercream techniques as well as baking techniques. I joined the course in 2017, but she is still there to assist me if I have any queries. Thank you so much Neetha for continuing to support me!
Shwetha Gupta, India
I recently joined Neetha's Online School. I have been baking and decorating a lot and wanted to learn buttercream flower piping and painting. The Online School has all the details from the colour theory which is very important for creating beautiful designs to her signature buttercream recipe and all the techniques. The course is well structured and goes from basic to advanced! I love her flower piping & palette knife painting section, so detailed! I recommend her course if you want to learn buttercream art. She is very approachable and helpful. One of my best decisions ever to take her class. Thanks Neetha.
Preeti Amit, India
I am so glad I found Neetha and enrolled in the Online School. Piping flowers and covering the cake with buttercream is so much easier with Signature Buttercream recipe! It is by far the best buttercream recipe I have ever tried! I thought it would take me a while to master buttercream art but I am so shocked that I got it right from the first try itself. All credits to Neetha, she is a great tutor, the online classes are so elaborate she makes sure no details are missed out! Neetha is also so quick to respond and support me throughout this learning process. Highly recommend the Online School.
Fatin, UK
I used to struggle decorating with buttercream but this course has transformed my cake decorating skills. I love the signature buttercream recipe because it is eggless and tastes heavenly! The techniques learnt in this class has helped me to pipe such beautiful flowers and also learn everything from crumb coating to covering cakes beautifully! I would highly recommend Neetha's classes. She is such a helpful and good-hearted lady. Thank you very much Neetha.
Kerry Hemms, Angels Kitchen, UK
I do have my business making wedding cakes but hadn't ever decorated a cake with buttercream palette knife painted flowers before! The highlight of Buttercream Petals Course is the unique buttercream recipe suitable for different weather conditions, techniques for Palette knife painting and the confidence to produce beautiful buttercream flowers! I really enjoyed learning new skills, highly recommend this course.
Dolly, Tanzania
I have been running a cake business for over 40 years now in Tanzania. I mostly do buttercream cakes and was keen to learn these new buttercream techniques. I love Buttercream Petals class so much! My biggest happiness is that I can pipe realistic flowers now and can also palette knife paint so nicely! I cannot wait to introduce these new cake designs in my bakery. I would highly recommend this class to anyone who likes to learn so much about buttercream art! The taste of signature buttercream is just awesome!
Hadis, Sweden
I have always dreamt of creating beautiful cakes. When l I found Neetha, I enrolled in her Online School. What I like the most is that she is always there to support me and answer my questions! The signature buttercream recipe is perfect and I love the easy to make cake recipes which are all so good! I would recommend her online course to anyone who has the same dream as me, to make delicious and pretty buttercream cakes.
Heba Barkaji
I love the Online course because of the flexibility it offers! I have lifetime access and there is so much to learn, it is all well organised and easy to understand. I recommend this course to those who are interested to learn buttercream art, whether beginners or professionals, this course is suitable for all! I am still a new member and learning the basics and so far enjoying it as a hobby, but who knows? The great motivation the course possesses and my love for cakes may draw me to open a business in the future!
Lorraine Lockwood, UK
I love the online school as it means I can learn at my own pace and fit around my kids and life. The videos are easy to follow and I've picked up so many new-found techniques as well as the amazing recipes which enables me to pipe & paint some beautiful blooms. Neetha is only ever a message away and is very supportive. I've no doubt my hobby will become a business as my confidence has grown, as has my ability to decorate, both beautifully and with more speed, all thanks to this amazing online course. I can't thank Neetha enough for creating such a simple, easy to follow, fun course I am loving it!
Floury Fusion, UK
Attending Buttercream Petals Masterclass was one of the finest decisions I made in my cake journey...I can't thank u enough for your wonderful recipe n tips..ur buttercream recipe always works wonders!
It has filled confidence in me because otherwise I always used fresh cream but in this weather, it was difficult to create floral designs with it. But Since I have started using ur buttercream I can create any design and give my cakes a professional touch. I always receive wonderful feedbacks from my clients! Also, thank u for always replying spontaneously to all my doubts and queries...Thanks a lot dear..You are a wonderful person!
Paran Kaur, Your Cakes Ltd, UK
When I joined Buttercream Petals, I was a complete beginner with a passion for cakes and a dream of starting my own Cake Business. Since joining Buttercream Petals course, I have improved tremendously on the process of designing a cake as well as creating beautiful piped flowers, which I would have never learned by myself. Having a lovely buttercream recipe and solid techniques, I was able to progress much faster. After just a month of completing the course, I have started my own business called 'Your Cakes Ltd' based in Coventry, UK. I am so happy I already have a best-selling product - my floral cupcake bouquets! I highly recommend Buttercream Petals Course to anyone looking to really master cake decorating.
Ramya Ganapathy, Icing Bird, UK
Buttercream Petals course is amazing, Neetha is always available to answer your doubts even after the course. I always use Signature buttercream recipe for my family and customers, and everyone raves about the taste of the buttercream! I love how it's eggless and vegetarian and absolutely a game changer! I would highly recommend this course! Course to anyone looking to really master cake decorating.
Samrina Akhtar, Mini's Confectionary, UK
I personally find normal Buttercream too sweet for my liking, so I stayed away from Buttercream before I did this course. Wow, a lot of things changed after Buttercream Petals course. Signature buttercream recipe has the perfect balance of creaminess and sweetness, it's a big hit with my family and customers. It not only tastes delicious but it's also so easy to work with! And gaining a new skill that is a niche has helped me establish my business. Neetha is a fabulous teacher and explains everything so well, she guides you along the way and helps you improve. The aftercare and support of this course have been phenomenal, she's always there to answer any questions.
Yvonne Gavin, UK
When I was lucky enough to find Neethas courses I was at the very beginning of my cake journey. I dip in and out of making cakes as its a hobby but after taking Buttercream Petals course, I have totally fallen in love with it. After completing Neetha's class I have been able to make cakes for events, take to work and give to family and friends with a feeling of pride knowing people are really going to be impressed. When I have put pictures up on social media since your class people have commented could they order... I am like, Oh my goodness people would pay for my cakes! For that, I have to thank you Neetha because, without your classes, I wouldn't have known where to start, never mind starting to get professional-looking cakes like I am now. I would recommend anyone thinking about joining Buttercream Petals Courses to jump in and go for it, you will not be disappointed.